Details

Published on Wednesday, 05 January 2011 05:15
The Seattle Times reports that Microsoft is going to "make a splash in this market with a stripped-down version of Windows tailored for set-top boxes and connected TVs."
The software is a version of its embedded device software but overlaid with the Windows Media Center interface that offers media and remote control capabilities. The price of the boxes
is expected to be around $200 and will go on sale later this year.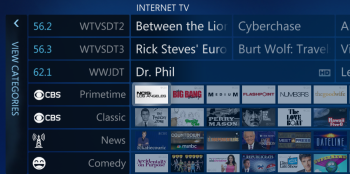 PCWorld elaborates on the features:
It's not clear what features the device will have, but considering that Windows Media Center comes with almost every new PC we can make some pretty good guesses. Media Center currently sports DVR capabilities, a TV and Web programming guide, Internet video streaming, and the ability to play or view videos, images and music stored on your home network. You can also buy a Media Center remote control so you never have to get off the couch.

Since the new device is rumored to cost about $200--$100 more than Apple TV -- and should have DVR capabilities, it would likely have a fair amount of storage (say 500GB to 1TB) for storing all those DVR-recorded shows. But that's just a guess.
Microsoft had only limited past success in this space, but in terms of timing and momentum they could be spot on. 2011 will be a year full of attention on the connected TV space.