Details

Published on Sunday, 10 October 2010 06:44
News on controllers for the Google TV has been around this week, mostly because Sony's remote surprised the industry.

Now it's Logitech's turn to present its Revue-specific version of the (Di Novo) Mini for Google TV, as reported by Engadget.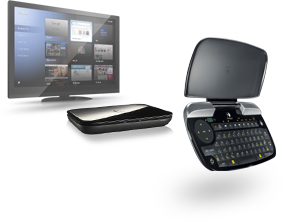 Specifications of the Mini controller:
* The 2.4 GHz wireless controller connects to the Revue via a small "unifying receiver" which plugs into one of the rear USB 2.0 ports.

* According to Logitech, the receiver can handle up to six wireless devices simultaneously, so you could potentially add a mouse, second keyboard or other compatible peripherals in the future.

* Flip the lid, and you'll find a palm sized QWERTY keyboard, that's sized ideally for thumb-typing.

* A set of media controls (Play, Pause, Rewind, Fast Forward and Volume) sit at the top of the keyboard for easy access, large channel up/down buttons are on the left, and you can hit the function keys to unlock a number of shortcuts, including access to Google TV, your DVR, the Menu and so on.

* Up at the top right, you'll a large round button which duals as a directional pad and touchpad.

The market for new tv remotes that adapt the opportunities of Connected TV/Social TV is growing, not only companies like Logitech and Sony are releasing remotes, also the growing amount of iPhone and iPad applications that transform the device into a remote is adding an competitive touch to this segment.
Click below to read full article...
In a society with an ubiquitous digital life and an increasing amount of consumer electronic devices, simplifying a consumer's portfolio and simplifying the experience is an opportunity.
One recent market development that sustains a multi-purpose device is that the iPad looks on track to become the fastest adopted consumer good ever.
Tablet and mobile device manufacturers should research the opportunity of a universal tv remote for connected TV's, independant from TV set and software, with a focus on simplifying the new (lean-in) TV experience and clean up the range of devices at home.
It can be approached from several angles:

* It is a possible scenario that consumers will get more than one type of Connected TV's, thus having more remotes.
* Not the device is the starting point, but the multitude of purposes/usage of one device, will be the starting point.
In the beginning of the MP3 era, I got a Samsung mobile phone specifically built for this new feature, listening music via phone, newer mobile phones are specifically transformed into a "social" phone, easily accessing social networks and ones digital life. Facebook's alleded phone is the apex of this type of phone.

An easy-to-use and plug-and-play (ala Apple) type of device would be an adaptation of transforming consumer lives.

Another purpose would be (social) gaming entering the TV screen, Sony's remote could be handling types of gaming, but maybe not so easy when it comes to search and interaction.

It no easy task to truly understand shifting digital user behavior and developing a device for it, but certainly a win-win situation for both companies and end-consumers.